Open House - The Real Estate & Mortgage Show: September 24th, 2022
Date Posted: September 26, 2022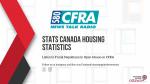 In 2022 we've seen a rollercoaster of a housing market, and it continues to follow that trend. Although housing prices are slowly coming down from their peak, we are seeing interest rates continue to trend at a high level. This is increasing the number of houses on the market as we see less and less people qualifying for mortgages or opting out of buying right now.
Inflation is driving up costs of food, oil and in turn, increasing interest rates. We are seeing this reflect into all different markets and affecting Canadians. We can only predict that this will change as time passes and look toward what the spring/summer of 2023 market will look like.
Stats Canada released new housing market statistics which showed that the gap between the amount of people renting and the amount of people owning is beginning to narrow. We are seeing more and more people choosing to rent houses.
To listen to the full episode, click here.
Contact your Mortgage Broker today for trusted advice.